CASDAGLI CIGARS adds a new line of cigars : D'Boiss Line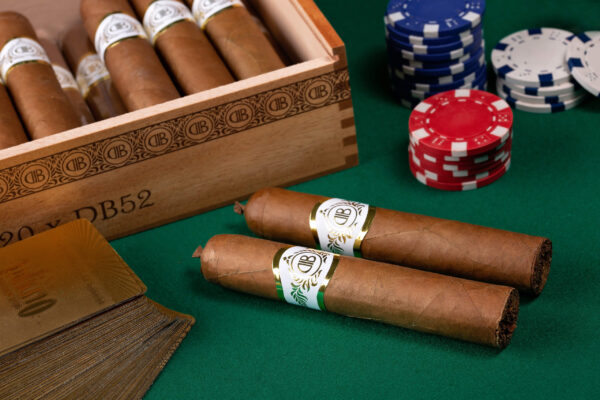 The first cigar DB52 of the new D'Boiss Line is inspired by the poker nights hosted at the Casdagli Cigars' home lounge within the D'Boiss Bespoke Club in Tallinn, Estonia. DB52 with its cubanesque flavours seeks to please the Cuban cigar lovers. Although production will be limited it will now be more widely available to Casdagli Cigars' distributors.
When launched in Spring 2021 the DB52 was available at the few Casdagli Specialist outlets as well as the D'Boiss Bespoke Club concept store that is also the home of the Bespoke Cigar Lounge by Casdagli in Tallinn, Estonia. It is a robusto with an undisclosed blend that comes from the same IGM boutique factory as the Casdagli's Daughters of the Wind Line in San Jose, Costa Rica. The name DB52 and the line's box design is inspired by the poker nights hosted regularly by the club referring to the number of cards in a deck of cards and also happens to be the ring gauge of the cigar. As the line name suggest, there are more vitolas coming.
"Due to the ongoing scarcity of Cuban cigars sought after by some of the clients visiting the D'Boiss Club Bespoke cigar lounge in Tallinn, we decided to take the matter into our own hands. The result is the creation of the D'Boiss Line of cigars. Using very rare exotic tobaccos sourced with our partners in Costa Rica these cigars deliver sweet honey aromas and subtle sweet spicyness to the palate, characteristic to the Cuban cigars. The Claro Colorado wrapper leaf also delivers gentle cedar notes to accompany the honey and almond aromas of the filler leaves," Jeremy Casdagli, the Founder of the Casdagli Cigars describes the creation of the D'Boiss Line.
DB52
52 x 4,6''
Petit Robusto
Wrapper – Ecuador; Binder – undisclosed; Filler – undisclosed
The cigars come in 20 count boxes.
Market release: already available in Norway, USA and Estonia. Now available as a general production cigar to all Casdagli Cigars' distributors worldwide.
Made in Costa Rica by the IGM boutique factory.