Casdagli Cigars Specialist – the mark of mutual trust and respect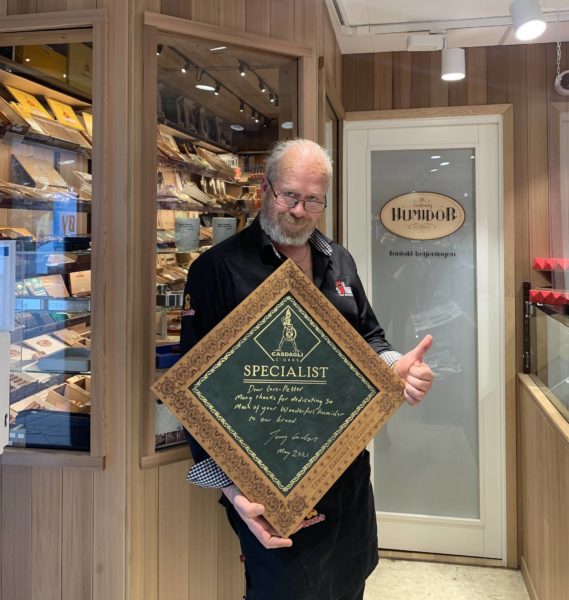 Casdagli Cigars is very pleased to award the first Casdagli Cigars Specialist title to Solhøy Frukt og Tobakk, a cigar outlet in Horten, Norway for demonstrating steadfast and great support towards the Casdagli brand. The Casdagli Cigars Specialist title will be awarded to brick and mortar retailers, who include over 50% of Casdagli produced vitolas in their product selection and also offer a wide variety of luxury cigar and lifestyle accessories of Casdagli Cigars' subbrand Villa Casdagli Collection. The award will also be subject to other parameters decided on a case by case basis.
The Casdagli Cigars Specialist award is a handmade sign of engraved wood and leather adorned with Jeremy Casdagli's personal inscription. Out of over 200 retail outlets offering Casdagli cigars and accessories globally another four cigar shops will be rewarded with the Casdagli Cigars Specialist award soon. This will be an ongoing project.
"The award is meant to celebrate the brick and mortar shops who make a great success out of thoroughly learning to know the products they sell and the customers they serve. Lars-Petter Arnesen has expressed great enthusiasm and support towards our brands. I'm delighted to award the first Casdagli Cigars Specialist title to him," says Jeremy Casdagli, the Founder and Co-Owner of Casdagli Cigars.
Solhøy Frukt og Tobakk is a family business for three generations located just outside of the capital Oslo. It is now run by Lars-Petter who recently increased its selection of premium cigars and Casdagli Cigars in particular. In addition to being able to enjoy a Casdagli cigar on Lars-Petter's terrace one can pair it with a Villa Casdagli Guatemalan coffee. In fact almost the entire selection of the Villa Casdagli Collection apparel and cigar accessories are be available at Solhøy Frukt og Tobakk.
"I'm honoured and thrilled to receive the award. Increasing the assortment of cigars and related accessories in our product portfolio has proven to be a successful business decision enabling to increase the turnover considerably also during crippling Covid conditions. Casdagli premium cigars are definitely a big hit among our cigar smoking customers " says Lars-Petter Arnesen, the Owner and Manager of Solhøy Frukt og Tobakk.