LES FINES LAMES x Casdagli Cigars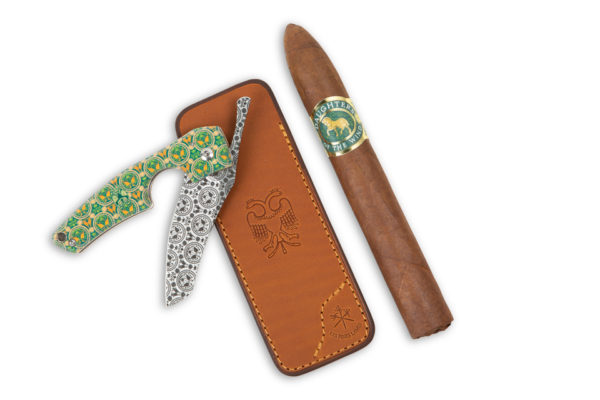 Where the luxury, elegance and tradition meet
The French cigar accessory maker LES FINES LAMES and the boutique cigar producer Casdagli Cigars introduce their first collaboration: Le PETIT Villa Casdagli Limited Edition. The new cigar cutting knife will be launched under the Casdagli Cigars' luxury cigar accessory focused subbrand Villa Casdagli Collection.
The multipurpose friction folder knife that can be also used to cut cigars features the Villa Casdagli Collection unique design on the handle, blade and leather sheath. It is priced at 239€ and will be initially limited to 100 numbered units. Le PETIT Villa Casdagli Limited Edition cigar knife was launched on the 23rd of November 2020. The knives will be available for purchase at online shops of both partners (https://www.lesfineslames.com/getyours/en/ and https://casdaglicigars.com/shop/) and selected distributors of Casdagli Cigars.
The handle of the collab cigar knife is made of very hard Mediterranean olive wood, prized for its durability and adorned with the pattern inherent to the Villa Casdagli Collection original cigar accessories. The engraved pattern continues on the blade made of 14C28N stainless steel that is virtually impossible to dull thanks to its 59 HRC hardness. The double headed goose image printed on the handle and embossed on the protective leather sheath is drawn from the Casdagli family crest symbolizing the continuation of traditions.
LE PETIT Villa Casdagli has been designed to be no bigger than other cutters on the market while being much more versatile adding the pocket knife dual functionality. With its total length of 11,5 cm the knife fits perfectly in your pocket and its 6,5 cm long blade makes it legal to carry in a vast majority of countries. The cigar knife comes equipped with lifetime warranty.
"For us, it is a natural match of two brands. Both, LES FINES LAMES and Casdagli Cigars source originality from the same values – luxury, elegance and tradition. We cherish the top quality craftsmanship and believe that good things are hard to come by. We are exhilarated by the partnership and thankful for the trust," says Jeremy Casdagli, the Founder and Co-Owner of Casdagli Cigars.
"The mutual desire for a collaboration between LES FINES LAMES and Casdagli Cigars had been present for many years. We have spent so many good moments with Jeremy and his teams over the years, all we needed was the customizable product to materialize and express to the world this friendship between men and brands. The launch of LE PETIT a few months ago made this possible and we are extremely happy to make this collaboration a reality." says Pierre Jourdan, Founder and Co-Owner of LES FINES LAMES.
***
Casdagli Cigars is a boutique cigar brand founded by Jeremy Casdagli in 1997, initially known as Bespoke Cigars. The aim is to offer unique and consistently quality cigars that deliver the sense of luxury, elegance and tradition. Casdagli's cigars are handcrafted at the Kelner Boutique Factory (KBF) in the Dominican Republic and at the IGM Boutique Factory in Costa Rica. The Casdagli Cigars brand has grown from a small regional brand to an almost worldwide available cigar. Nowadays you can find Casdagli Cigars in over 20 countries in Europe, Middle East, Africa, Asia, and the United States.
Villa Casdagli Collection is the Casdagli Cigars' subbrand focusing on the offering of luxury cigar smoking and lifestyle accessories.
LES FINES LAMES was born in 2015 after a successful crowdfunding campaign. LES FINES LAMES proposes a unique range of exceptional cigar accessories, totally made in France, and sold all over the world: relying on a global distribution network and more than 220 retailers worldwide, nearly 90% of its turnover is made abroad. With a strong presence on social media, LES FINES LAMES built in less than 5 years a loyal 45K followers community, and set a new cigar related crowdfunding record launching in 2019 its LE PETIT cigar-cutter on Indiegogo, registering $132k of contributions in one month.