The Peacock has landed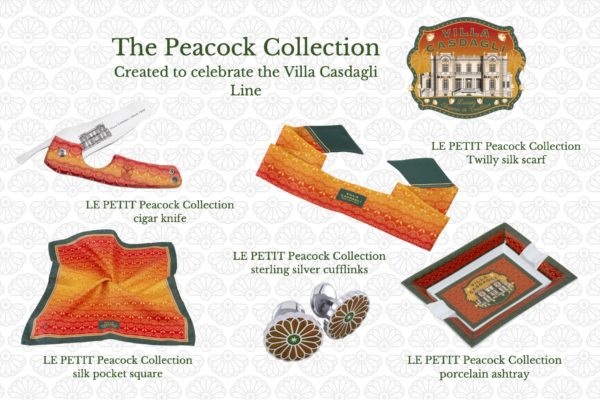 Launching a line of luxurious cigar and lifestyle accessories by Casdagli Cigars
The launch of the new Casdagli Cigars's Villa Casdagli Line is accompanied by the debut of a new bright and colorful accessory set – the Peacock Collection. The new accessory collection is part of the Casdagli Cigars' luxury cigar and lifestyle accessory subbrand Villa Casdagli Collection. The Peacock Collection will be introduced in Las Vegas at the upcoming PCA trade show.
The Peacock Collection comprises a new collaboration cigar knife by Les Fines Lames, a pair of handmade sterling silver enamelled cufflinks by bespoke jeweller Vitaly Holstinin, colourful Italian made silk accessories for men and women and a porcelain ashtray. The new accessory collection draws inspiration from the gallant peacock tail shaped stained glass window adorning the grand reception room of the Villa Casdagli in Cairo.
24 pieces of the Peacock Collection accessories make up the prize fund of the special Villa Casdagli gift campaign, launched in celebration of the Villa Casdagli Line. The collection is also available via Villa Casdagli Collection online shop and in the near future through selected Casdagli Cigars' distributors and retailers.
Villa Casdagli Collection is the Casdagli Cigars' subbrand focusing on the offering of luxury cigar smoking and lifestyle accessories, launched to celebrate the Casdagli Cigars' 20th anniversary in 2018. In addition to the freshly created the Peacock Collection the product lineup includes the Villa Collection Original and the House of Glory Collection, all inspired by the Casdagli family owned Villa Casdagli located in the centre of Cairo, Egypt.
"From the very beginning of the creation of the Casdagli Cigars brand I wanted to draw inspiration from my rich family history as well as to ensure craftsmanship of the highest quality for all of our products. The idea of the Villa Casdagli Collection was to develop a line of accessories for aficianados that include lifestyle and cigar smoking related articles that represent luxury, elegance and tradition of the cigar lifestyle," Jeremy Casdagli, the founder of Casdagli Cigars says.